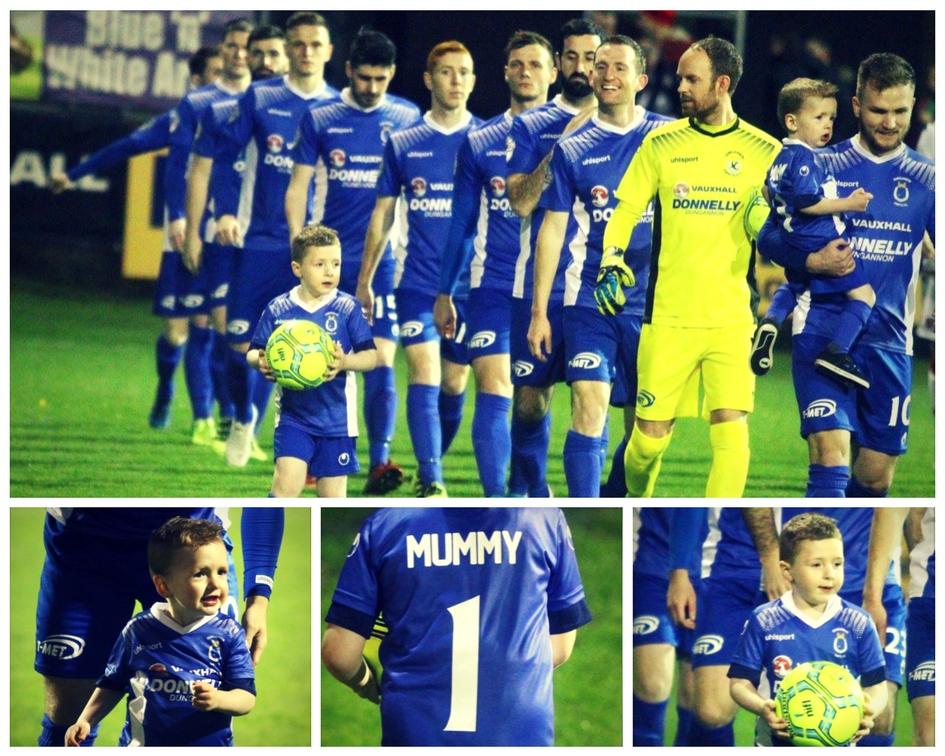 In July 2017 we were deeply saddened to learn of the sudden death of Swifts supporter, Jolene O'Hagan. Jolene who lived in Cookstown, was engaged to Johnathan Smyth and had two young sons, Alfie and Theo. Jolene died suddenly of what turned out to be a pulmonary embolism. This news came as a shock to all as she was such a young girl with her whole life ahead of her.
As a club we felt we would like to help remember Jolene in our own way and we offered the chance for both of her sons, Alfie (4) and Theo (2) to act as DSFC Team Mascots. Their father, Johnathan, kindly took up the offer on behalf of the boys and they came to Stangmore Park on Tuesday 21st November for our fixture v Crusaders FC.
Accompanied by granny Fiona, granda Andy, auntie Lauren and great Nana Yvonne, Alfie and Theo both were kindly presented a full DSFC strip each with the Name 'Mummy' and number '1' on the back of them.
Prior to kick off the boys made their way out onto pitch at Stangmore Park to enable them to join some first team players and have a 'kick about' on the pitch with them and also between themselves. Alfie and Theo enjoyed posing for photographs with first team players and around the ground. They even managed to sneak a photograph in the dugout! The boys were presented with a DSFC team photo each which were signed by the squad and manager Rodney McAree.
The ultimate surprise of the night was meeting Current NI Player and Donaghmore boy (former Swifts and DUY player) Niall McGinn who kindly took up the offer to visit Stangmore on Tuesday night to meet Alfie and Theo. Both of the boys were in awe of Niall and it certainly was great to see the smiles on their faces. Thanks to Niall for coming to Stangmore on Tuesday night after travelling home from South Korea that day.
When it came to the big moment, leading DSFC out onto the pitch, the boys got a fantastic welcome from match referree, Mr Raymond Crangle, who also gifted the boys a token of money each. This was very kind of Mr Crangle. Alfie was given the match ball by Ref Raymond to carry onto the pitch and Swifts Captain Ryan Harpur led from the front with little Theo in his arms.
The boys completed their task with complete pride and loved every bit of it, Jolene would have been so proud of them. Leading the Swifts team out at Stangmore Park was a dream come true for the boys despite the score line they had a fantastic night from start to finish.
"The boys had an amazing time and haven't stopped talking about the occasion at all. Wee Alfie went into school yesterday and he couldn't wait to tell all of his friends about where he had been and what he'd been doing the night before. From the moment we walked into Stangmore Park on Tuesday night, we felt just at home, we were all welcomed with open arms and the treatment we received was nothing short of superb. Jolene will be looking down proud of her two boys and proud of her football club too. I would encourage everyone to support their local game and come and enjoy the amazing family atmosphere that Dungannon has to offer." Johnathan Smyth
Alfie and Theo will be made most welcome when they return to Stangmore Park with their father and family in the future and we thank them for doing such a super job on Tuesday night.
The family are continually fundraising for the Thrombosis UK charity and have a just giving page set up by a sister of Jolene. If anyone would like to donate you can find the link below.